Personal Loans for Bad Credit in Lafayette, LA – Near You!
Bad credit shouldn't stop you from getting the loan help you need.
We will respond to requests for a Loan in Lafayette within an hour.
Here's how you can get a personal loan in Lafayette, LA (even with bad credit!):
1. Apply Now
Fill out the form, give us a call, or stop by our office to submit your loan application.
2. Wait for Application Approval
We review your application. Get answers fast with our personalized process.
3. Get your Loan!
Once you're approved, stop by our office in Lafayette to finalize your loan and receive your check.
We're local, experienced, & professional.
Do you have bad credit, but need a loan for everyday or unexpected expenses?
At Mark Credit Corporation, we specialize in providing installment loans for people with bad credit in the Lafayette, LA area.
Get help in urgent situations.
Don't let your finances hold you back. Get the loan you need to fix the problem, and keep moving.
Get approved, even with credit problems.
We can overlook some items in your credit history to help you get the loan you need. You deserve another chance. It's that simple.
Get quick loans for fast resolutions.
Rest easy as we process your loan so you can quickly resolve your emergency, and stop the situation from going from bad to worse.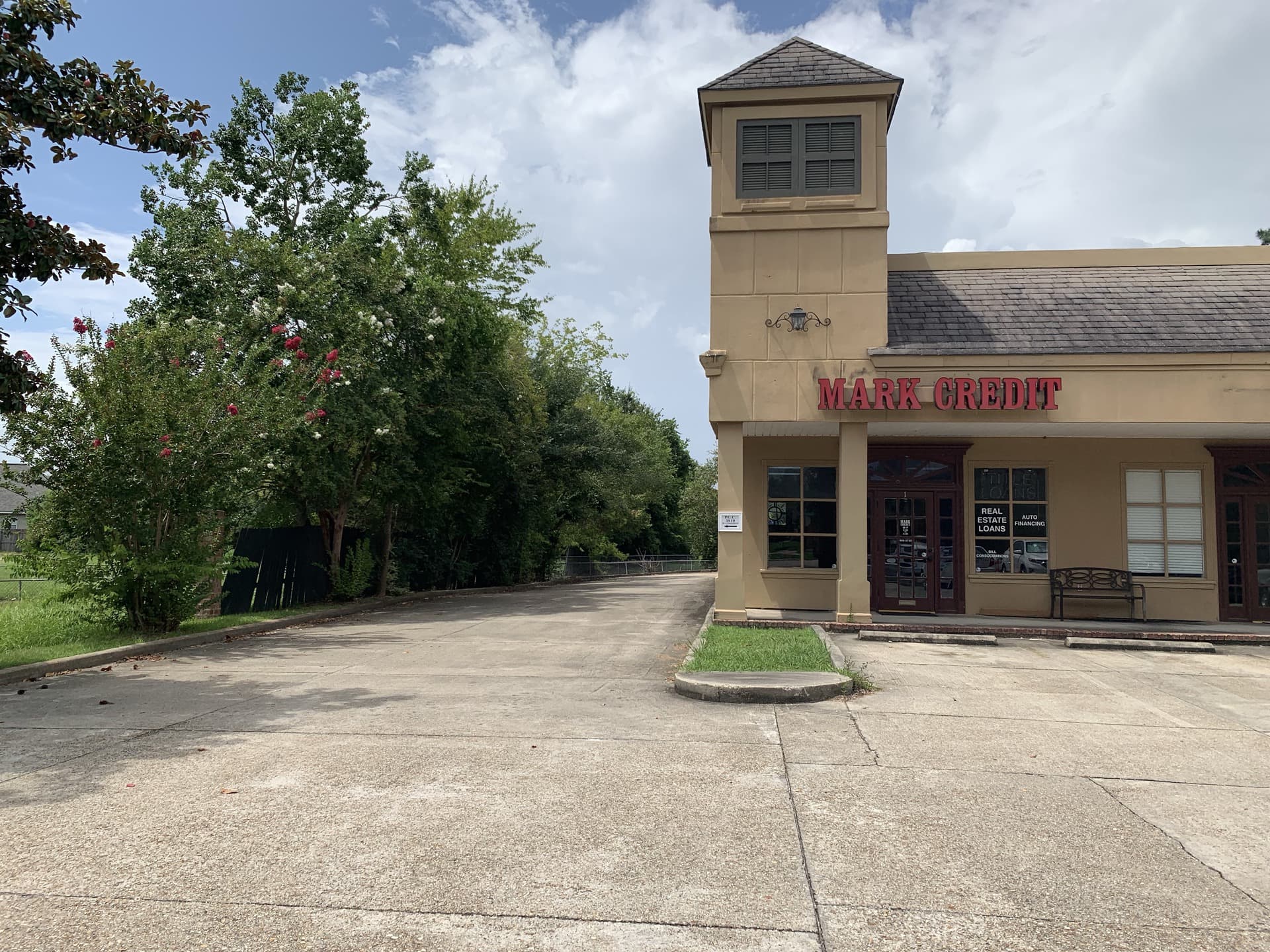 Address
Mark Credit of Lafayette
3816 W. Congress St. Ste 1
Lafayette, LA  70506
On Congress St., in the same shopping center as Papa John's Pizza, near the intersection of Guilbeau Rd. and Congress St.
Open 8:30 AM – 5-:30 PM, Monday-Friday
Contact Person
Vincent John
Tel: 337-889-3730
How are you different from the other personal loan companies in Lafayette, LA?
Most local personal loan companies in Lafayette provide basically the same kinds of packages and solutions as each other, but they don't all provide the same levels of personalized customer service.
Personal loan companies are similar to banks in this regard. For example, most banks have broadly similar options for checking accounts, but their level of customer service can vary wildly.
Mark Credit is a small, local Louisiana business, with our main office located right here in Lafayette, LA.
Being a small, local company is important to us, because it allows us to build personal relationships with our customers. We believe you deserve respect and your financial situation ought to be taken seriously.
Larger loan services couldn't give you the same level of personalized service that we can, even if they cared to try.
Sad to say, this focus on personalized service isn't as common as it used to be. Over the years, there are gradually fewer and fewer small personal loan companies around Lafayette.
Nevertheless, we've stayed around and kept doing good business. The big chains are increasingly becoming more centralized, but the local guys remain in business because of service and commitment.
What do you like about doing business in Lafayette, LA?
One of our favorite features of Lafayette is its unique, diverse, progressive culture.
As a major economic city, originally settled by the French, Lafayette has historically had a unique local Cajun French language and cultural current. This unique local vibe has truly made Lafayette "The Happiest City in America"! Whether you're interested in history, culture, music, or food, in Lafayette there's always another way to let the good times roll.
FAQs about personal loans and loans for people with bad credit.
How does a personal loan work?
A personal loan is a loan for a lump sum of money, typically paid back on an installment basis, which is payment over a set number of monthly scheduled payments.
Payments are for a set amount over the term of your loan.
How long does it take to be approved and get a personal loan?
You can complete an application online, by phone, or in one of our branches. The application is relatively quick, and once submitted you can be approved in about an hour.
The process of signing a loan takes less than 15 minutes once you have your approval and have gathered all the documents you'll need to close your loan.
Can I get a personal loan with a low credit score?
Although we do see your credit score when we process your application, we don't typically base our credit decisions off of your credit score. Our company engages in a process called manual underwriting, where an individual will review the entries in your credit file line by line to reach a credit decision. We often approve people with credit scores as low as 515, although because it's a manual process, we can't always approve everyone with that score.
How much money can I borrow from Mark Credit?
Our loans vary from $250-$5000.
In certain situations we can consider larger amounts, typically when you might have a vehicle or real estate to offer as collateral.
Please check with your branch for more information if you would like to discuss borrowing against a paid for vehicle or a piece of real estate.
What documents will I need to close my personal loan?
To close your loan, you will need a valid state ID or driver's license, a proof of your address, and your most recent check stub. We may ask for other information depending on your unique situation.
How do I apply for a personal loan?
You can apply with us by calling your local branch, filling out an online application, or visiting one of our locations to apply in person.
Can I get a personal loan online?
Although you can apply and be approved online, you will still have to visit one of our branches to sign your loan documents in person.
How will I receive my funds?
You will receive a check at the branch after you sign your loan documents.
How hard is it to be approved for a personal loan from Mark Credit?
Our company can overlook some delinquent items in your credit report in trying to get you approved for a loan.
We can't overlook everything however, and certain things like charged-off accounts from other loan companies and open or prior bankruptcies can cause you to be turned down.
What's the difference between a payday loan and a personal loan?
A payday loan is generally a loan for a small amount of money due back in one payment on the date of your next payday, while a personal loan is for a larger amount of money due back in multiple monthly payments.
The interest rate on a personal loan is lower than a payday loan as well.
Are loan companies regulated by the government?
Loan companies are regulated at the state and federal level. Regulations specify the rates we can charge, the type and nature of the disclosures you receive from us, and how we can collect on debts owed to us.
When do I need to begin paying back my personal loan?
The first payment will be due on your loan within 30-45 days of the date you signed your loan documents.
What payment methods do you accept?
Online or over the phone, we accept ACH and debit cards; at the branch, we accept cash, money orders, personal checks, cashier's checks, ACH, and debit cards.
Is there a fee to make payments over the phone or online?
We do not charge a fee to make payments of any type.
Can I pay off my personal loan early?
Yes, you can pay your loan off at any time with no penalty.
What if I can't pay my scheduled loan payment?
If for any reason you are not able to make a scheduled loan payment you should contact your branch.
In many cases they may be able to offer you an interest payment instead of your normal loan payment, which will be a lower amount.
Please contact your branch to see if you're eligible to use this option.
Will I receive a rebate for paying off my loan early?
Because our loans are precomputed, you will generally only receive an interest rebate within the first half of your contract if you payoff early.
What this means is that on a 12 month contract, you should receive a rebate if you payoff your entire balance within 6 months, with a larger rebate due in month 1 going to a small rebate due by month 6.
This is only a rule of thumb however, and you can contact your branch to get an exact payoff amount and to discuss how much you might save by paying off your balance now as compared to carrying it to maturity.
Do you report my credit information to the credit bureau?
Yes, we report all credit transactions monthly to Equifax Inc., the consumer credit reporting agency we contract with.
Late payments, missed payments, or other defaults on your account will be reflected in your credit report.
What is a personal loan?
A personal loan is a loan than can be used for any purpose. It is sometimes unsecured and sometimes secured by movable property, which can be things like furniture, electronics, or other household goods.